The RPG Maker franchise has always given us an easier way to get into game development, which out having to invest is powerful computers, and heaps of coding classes. Now, with RPG Maker MV, it brings that ability to the PS4 and Nintendo Switch.
Originally out in 2015 for PC, 2018 for PS4 and Switch in Japan, and now, as of September of 2020, we've got the PS4 and Switch version in New Zealand. The real question is does it make the transition from PC to console, and is the future really here with game development on the go?
The RPG Maker series has always been a fan favourite, allowing game enthusiasts to explore their creative side and tell rich stories without having to know coding. Or at the very least, much coding. To the Moon, Corpse Party and The Witch's House are just a few of the success stories RPG Maker has seen in recent years.
That success does take a lot of effort, however. Don't be fooled by the fact that RPG Maker MV presents itself as a game, it is still definitely a complicated piece of software that needs practice. Be prepared to sink some serious hours into it if you want to create your masterpiece.
RPG Maker MV boasts a lot of improvements over the previous entries in the series. For the first time Javascript is used rather than Ruby, allowing for more in depth control over the game you create. More experienced developers will be able to easily change game UI, and overhaul battle mechanics.
The sprite generator has a lot of new features (facial and otherwise) that makes creating a character not only a breeze, but also a lot of fun. Each change is reflected in real time, and with enough variety that it does truly feel like you're making a new character each time. You also won't be surprised by one emotion causing your sprite to look monstrous because it's all on screen right there for you to check from the get go.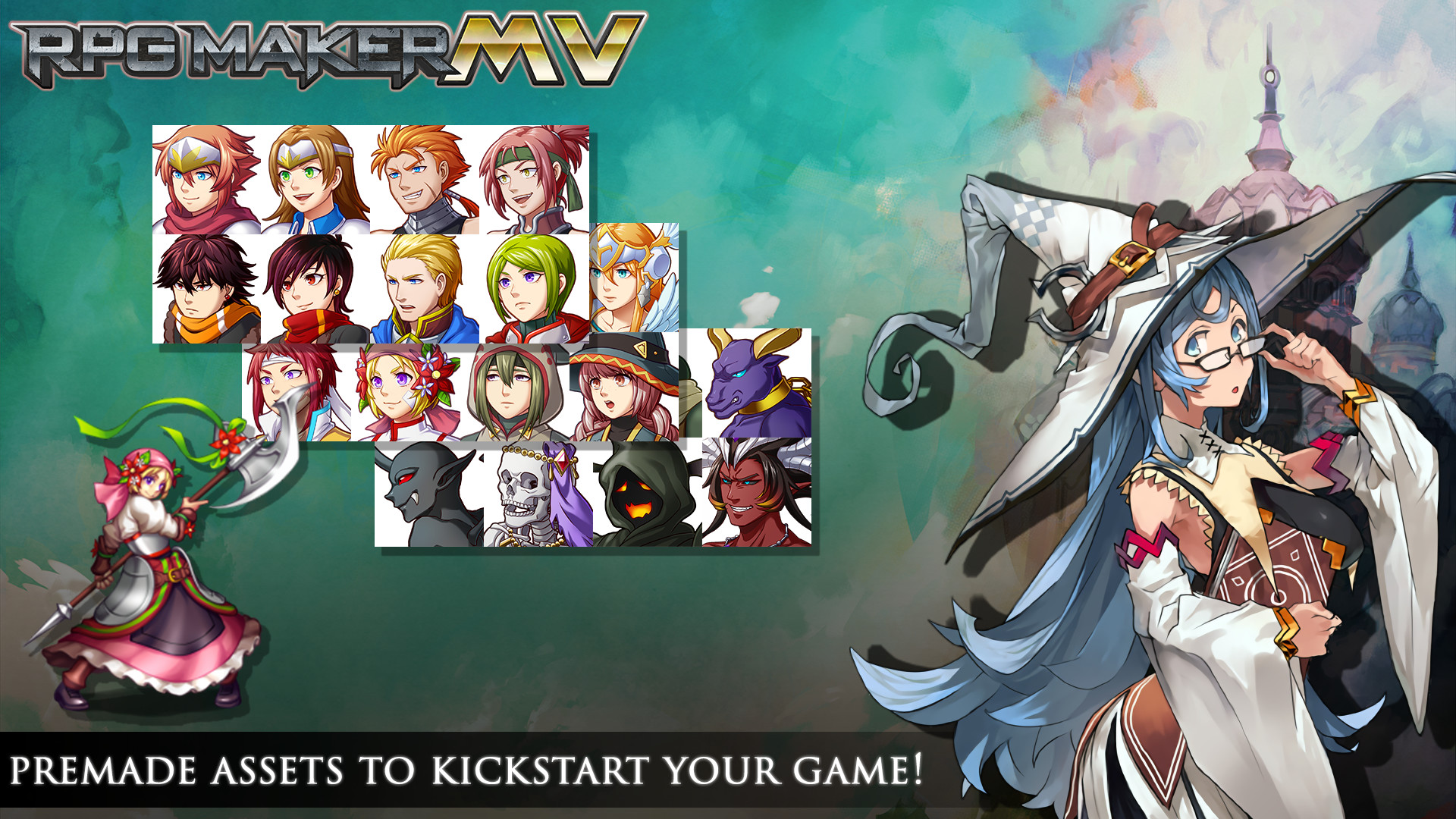 For the first time ever, RPG Maker MV also sees cross publishing when made on PC. Games created on PC can be released on both PC and mobile, while both PS4 and Switch games have to stay the same as the creation software which is a bit of a let down.
The fact that you can only share Switch made games with other Switch users is only the beginning of the disappointing cutbacks that had to be made in order to port RPG Maker MV to the Switch.
The lack of cross publishing means two things. One, all those really amazing RPG Maker MV games you've heard of might not have been remade on your console, and two, there is a limited pool of games to play. That being said, RPG Maker MV Player is free to download, and if you're a fan of RPGs, and indie developers, it's well worth downloading a game or two.
If you've managed to create a game, and feel pretty confident that people would pay to play it, there's a bit of bad news. You won't be quitting your job anytime soon, since both the Switch and PS4 versions of RPG Maker MV don't allow you to sell the games you make. This is likely more to do with the hoops you'd have to jump through to get the game off the console it was made on.
As anyone who has ever added mods to a PC game can tell you, there is a world of talented people out there who will create assets for games and franchises that they like. The same is true of RPG Maker MV, and on PC there is a lot of community content that really allows you to create the game you want. You don't see this on Switch or PS4, as neither can natively have data externally added to a game. There are, however, some wonderful creators who have made games that act as tutorials, or offer cool tips for new users.
The software itself suffers some performance issues on Switch. Navigation through menus is surprisingly intuitive. You click one button to enter a menu, and another to click out of it, while you use the joysticks to move through the menus themselves. They can be laggy at times, but still manageable.
There are two main reasons you'd buy RPG Maker MV on Switch. You have a Switch and don't want to shell out a grand plus to buy a PC or you would like game creation on the go. If its the latter, don't bother even trying.
Imagine starting up a new game. Imagine starting the tutorial. Imagine that tutorial crashing the game, and finding out that it cannot be accessed again through any menus and you have no idea what to do. Multiple times, on multiple Switches.
While stable enough in docked mode, the last thing you want for your game development software, is to have it crash on you. Especially ive you've not saved recently.
RPG Maker MV is a really lovely game development kit, made better by the hoards of fans who want to share their love for the franchise. But with the stripped back features, and tendency to crash in handheld mode, it was not ready to be released on Nintendo Switch.