With so many speaker options, the question is where do you want to drop your $600? Well if that is your budget then the JBL Partybox 110 certainly makes an argument for itself.
Do you want a way to enjoy some jams on a Sunday? How about pissing your neighbors off as late into the night as you can get away with it? maybe you believe you can sing and want the neighbourhood to have the chance to decide for themselves? Then the Partybox 110 will definitely help you with all of these.
One tall portable speaker.
The JBL Partybox 110 is billed as a portable speaker, and it kind of is. Traditionally when you think of a portable speaker it is lighter and smaller. This beast looks and acts like a traditional free standing speaker. The difference is it is a bit smaller and has a handle. It's not light, but not that heavy. So it is certainly portable, but not what I think of as a portable speaker.
On top of this, on the bottom is a panel you can remove and the speaker can be mounted on a speaker stand. This means it can be used easily for that corporate function so the boss can speak to the back of the room as well as your weekend jam machine.
Hypnotic lights
As you will see in any of the promo pictures, the speaker has an impressive area that can light up. This will be especially useful for those Friday night parties with the lights dimmed as you fill your flat with more sound than your neighbours could have ever asked for.
The lights are one thing that is going to be a love or hate aspect of the speaker. With the unit's size it becomes almost more of a feature of the room, and with the large amounts of lights going up it draws the eyes. Fortunately if it isn't your thing then you can turn them off with the press of a button on the speaker itself.
One thing that annoyed me is there are two little white strobe lights on the unit, one at the top and one at the bottom. They are bright as hell and even in the middle of the day it hurt my eyes looking at them. Using the app you can turn those off while leaving the rest of the light show, so my inner old man disabled them for good. Damn kids with their bright lights.
Volume to annoy your neighbours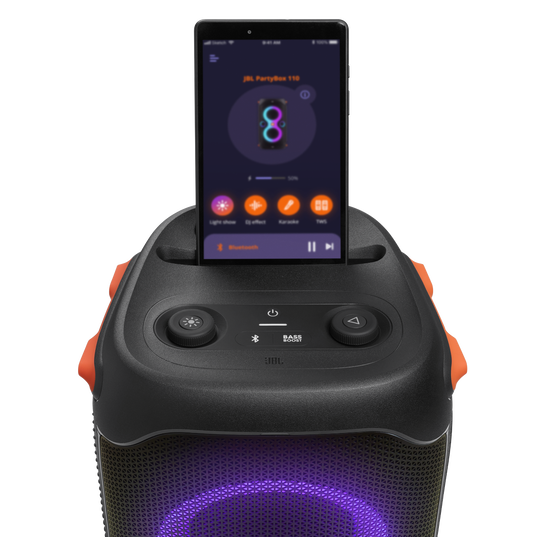 What you lose in mobility with a speaker like this, you gain in volume. To give it, as well as my relationship with the neighbours a test, I used it to belt out Let it Be and Helter Skelter. Yes I have been watching Get Back on Disney+ so have been listening to a lot of Beatles. The Beatles are typically not my jam but man they have some bangers.
The sound blasting on my deck was loud enough that someone had to yell to be heard. If you are looking for a speaker for parties at your house I suspect you will not need more than this. As it rumbled the walls of the house without even using the Bass Boost button. This makes the unit a real option to be your home jams while being a practical option for the MC's among us.
Fully Featured
The speaker is water resistant, but weirdly only up right. If it is a bit wet you will want to make sure it isn't being used horizontally. May seem odd, but it is what it is. The back of the speaker has a nice big rubber cover that pulls off to reveal heaps more.
There is an input for your guitar so you can use the speaker for an amp and another for a mic. So if you are running a corporate event where you do motivational speeches and motivational guitar licks then boom, you have expensed it.
There's a USB port which can also charge your phone, and you can run it straight from AC when it's being used inside so you don't run the risk of losing the party. Of course it can link up to more than one speaker so you can use it quieter with multiple speakers throughout the house.
One big small speaker
When looking at tall standing speakers, this is definitely a small portable unit. It acts like it wants to be the life of the party and to be fair it is. The $600 price tag isn;t small but you get a lot of bang for that buck. If those additional features like using it with a stand and for a mic is what you need then it is kinda of a no brainer.