Logitech G915 TKL keyboard and PRO Superlight mouse Review
There's a party on my desk and no one else is invited.
The G915 is all the fun and tactile bliss of a mechanical keyboard, without deafening everyone in a quarter-kilometre radius. Thank Logitech G for those sweet MX Brown switches; while on paper sounding way worse and a little gross, in action they're the perfect mix of feedback and relative quiet. Ideal for long-term typing in an open plan office, or quietly beavering away on tech reviews while binge-watching Saved By The Bell on the couch.
Speaking of, this thing is portable as all hell. Weighing almost nothing is a big plus, and the 60% keyboard without the number pad – hence TKL, or Ten Key Less – is just the right profile to sit across your lap. The instant Lightspeed to Bluetooth switching is also amazingly useful. Why? Because I can go from writing on my laptop to writing on my phone at the literal press of a button. Mine is paired with my personal laptop and phone via Bluetooth, with the Lightspeed adapter plugged into my work laptop hub. Now I can take efficient, comfortable typing wherever I go; I know I'm a nerd but this is genuinely exciting.
Using the G Suite provided by Logitech, you can customise buttons, lighting, and devices connected, switching between everything on the fly. Again, physical buttons rule here; I like a bright keyboard during the day, and barely any illumination while couch typing. Three taps of the backlight button and boom, instant eye comfort. Physical buttons for media are also a win; back, forward, play/pause, and mute are good, and a little scroll wheel for volume control is a great addition/ fidget toy during Teams meetings.
As someone who writes a lot, both for a living and for the sheer unadulterated thrill of it, a comfortable and non-intrusive keyboard that I can carry with me is the dream. I'm typing this review on that dream.
The G915 TKL is expensive, sure. But it's worth every penny, and I highly recommend it. And hey, it's almost Christmas; bet the techie in your life would love a fantastic keyboard they might struggle to justify buying for themselves. Full disclosure, I've actually bought one in addition to the review unit for my fiancé, because yeah, they're THAT good. What more of an endorsement could you ask for?
My working style could charitably be called eccentric. More accurately, I flit around in a bizarrely chaotic pattern that makes no sense to others and barely makes sense to me. Swapping between documents, tabs, windows, programs, and occasionally devices, I need tools that enable my disorganised goblin ways.
Logitech G provides.
The PRO Superlight mouse is, fundamentally, a very very nice mouse. A smooth operator on my desktop, a sleek yet classic profile, and some excellent glowy lights make this my favourite mouse.
The side buttons are textbook convenience to my haphazard working style. They let me navigate forward and back on a browser, maneuverer through a Teams chat log, change pages in Excel, and more. Yeah it was some effort to set up for each program, but the benefits are mine to reap like a delicious, clicky harvest.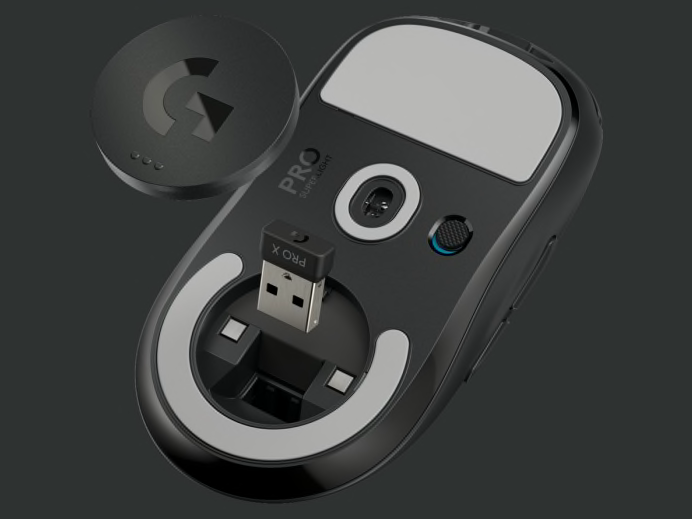 Also it's handy for gaming, but y'all don't care about that do you? What? Oh, you do. Well, it's good. Clicks are speedy, motion can be set to a snail's pace for an FPS or cheetah sprinting if your mousepad is 5cm wide. The battery lasts yonks, and charges pretty fast. And it is weightless… Ok it's 63g, but as far as I'm concerned that's as close to nothing as makes no odds. I don't know how Logitech G have managed to make a mouse that feels like a real thing but also like it's made of freakin' mithril, but here I am looking at it. Damn this mouse really is Superlight.
Previously, I used a G403 I got off TradeMe, which sadly clicked its last a short time ago. Ah, simpler times, when buying used tech off the internet wasn't a coin flip of gunky useless junk… well, less so anyway. The real difference is the change from the G403 to the PRO Superlight, which is basically nothing in principle. But also, in principle, a Ferrari isn't that different from a slightly older, heavier Ferarri.
The battery seems to last longer, and this lad is certified Lightspeed connection, which I guess might be faster? And again, this thing weighs less than Gandhi's heart on the scales of Anubis… It's very very light. Overall though, despite how much I love the PRO Superlight, I don't really know how to justify it over the older, almost identical G403, which is cheaper and still in production, in terms of a work environment.
But we are also gamers, my friends, and that's who the PRO Superlight is for. You can't have an extra 100g slowing you down when you're building Forts all Nite. The speed and responsiveness of this might be wasted in an Excel spreadsheet, but damned if it probably isn't useful when blasting zambambos in the latest first person shooter.
I assume. I'm not very good at FPS games without a controller, but the point is this lad did what I told it to and weighted almost nothing. If that's your jam, welcome to mouse heaven.
Two of a kind

The G915 keyboard and PRO Superlight mouse are a match made in, well, Logitech's design facilities, but also a match made in heaven. They complement each other wonderfully, feel great to use, and while a bit on the expensive side are those rare pieces of tech that are actually worth the investment.
Seven thumbs up, friends. You can't do better.