Logitech POP Keys and POP Mouse Review
I like emojis, and use them in work emails more than I probably should. So a keyboard that features a string of emojis on the side is a no-brainer. Add in a matching mouse, and my Christmas definitely came early this year.
Logitech's POP Keys and POP Mouse come in three matching designs. Daydream, Blast, and Heartbreaker. None of which have very descriptive names, but all of which have surprisingly good designs. Even Blast, which is mostly a rich yellow, looks sleek and classy. I usually will pick any other colour before I pick yellow, and yet it quickly became my favourite. The dark grey and black keys contrast well with the yellow backing, and the golden escape key is a nice touch.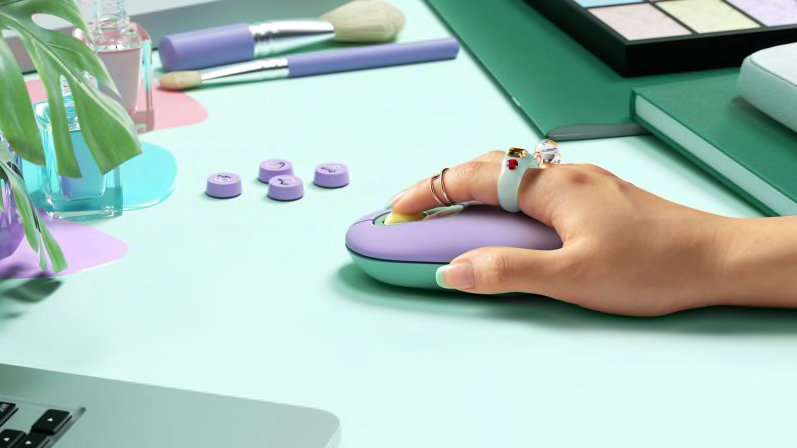 The POP Keys is a smaller ten-keyless keyboard that utilizes the space well. Every key is tightly tucked in with not as negative spaces as I expected from a circular key capped keyboard. The use of circular keys makes it look less cramped without leaving gaps so big that you'll miss keys. As an extra bonus, it makes the keyboard much easier to clean. It is clearly a typewriter inspired design, and it is very pleasant to write on. All the keys are big enough to type with, and even going from a full sized keyboard to this one saw very few typos due to size difference. While advertised as a mechanical keyboard, it sounds and feels more like a mecha-membrane with softer clicks and less of a sharp sound to typing. Thankfully, it still manages to hit a satisfying click.
The POP Mouse is simple in design with the same bright colours of its corresponding keyboard. It sits nicely in the hand, and has a nice smooth design. The design that really sold it for me though, was that the whole top faceplate easily comes off when you need to change the battery, and then slips right back on with magnets. It's simple, it's effective and I never want to buy a wireless mouse that doesn't use magnets to secure the battery cover ever again. That battery will also last you two years straight out of the box, thanks to an energy saver mode that activates when the mouse is idle.
Along with looking nice, the POP Mouse also has soft click buttons, meaning that you won't hear any annoying clicks when you use it to play Minesweeper during your latest binge watching session. Is that an oddly specific example? Yes. Is it true? Also yes. Thankfully, it still has a lot of responsiveness and tactile feedback, so it feels like a solid click, even without the noise. What is strange is the combination of a soft click mouse with a mechanical keyboard, even if it acts more like a mech-membrane.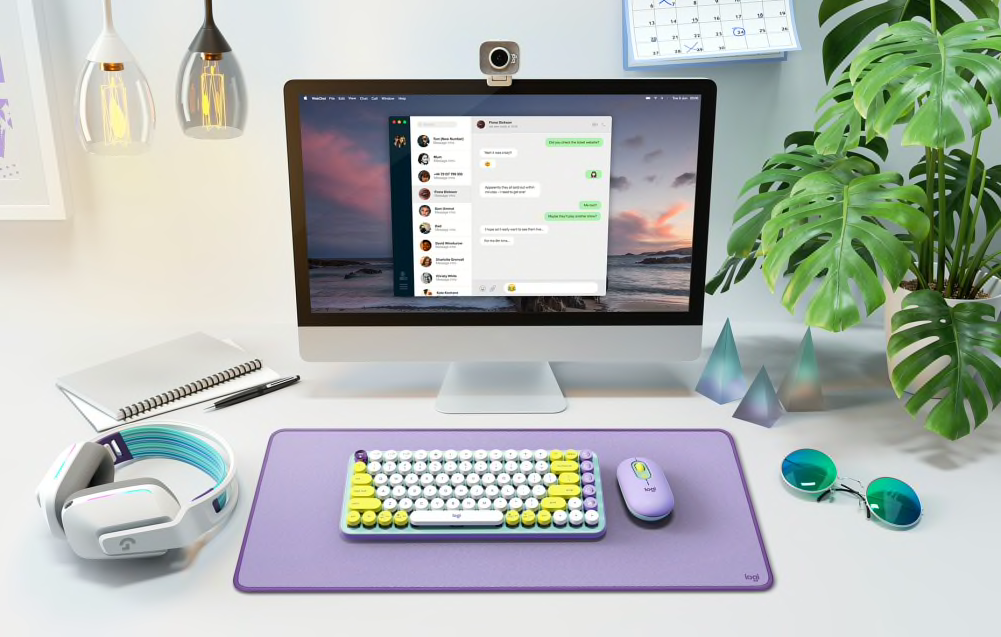 The major downside to the POP Mouse is that it is only bluetooth native. It doesn't come with a USB dongle out of the box, but can use the same Logi Bolt USB Receiver that comes with the POP Keys. Obviously Logitech didn't think that anyone would want just the POP Mouse, but would go for the whole set up. While it makes sense to bundle the receiver in with the more expensive keyboard, especially since that allows for a very low latency between key press and letters appearing on screen, it's still disapointing.
Both the POP Keys and POP Mouse are easily programmable. Weirdly enough, especially considering that the emoji buttons are what makes this keyboard stand out, you do need to program them. To do this you need to download the Logi Options app, but the app itself is very easy to use, and makes the POP Keys and POP Mouse so much more customisable. It's also how you can connect the POP Mouse to the Logi Bolt receiver that comes with your POP Keys.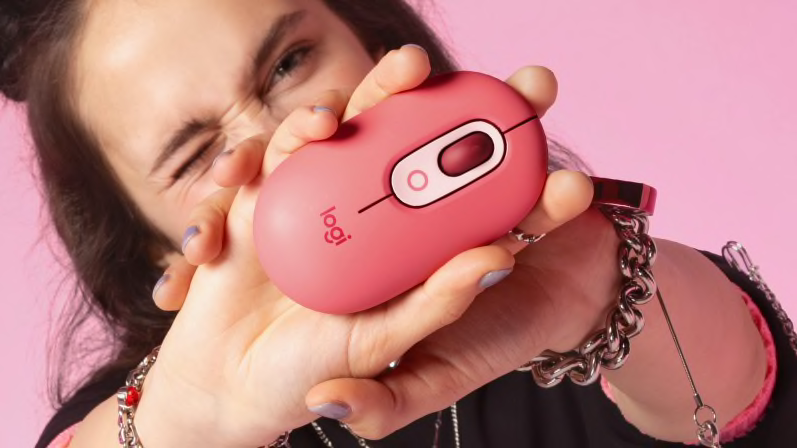 The POP Mouse comes with one main programmable button right below the scroll wheel. By default it brings up an emoji menu for you to look though, and pick your perfect emoji, but it can be programmed to a specific emoji, or any combination of keystrokes, giving it a large range of uses. There are also other shortcuts that you can assign to it, such as minimising windows, copying, pasting, or even putting your computer to sleep. If that's not enough options, it can also be changed depending on what program you are using.
The POP Keys has five programmable 'emoji' buttons, and even comes with another four key caps in the box so that the buttons can be swapped to match your preferred emojis. Because nothing would be more annoying than having a button that does not match. That being said, the emoji keys can't help but feel gimmicky, which is a fair claim. This is a keyboard built for aesthetic, but a little personalising can make it functional in a way that matters to you.
Annoyingly, for a keyboard that focuses on being personalised quite so much F1 to F3 are bound as the keys used to switch between the connection between different devices. While I love the idea of swapping my keyboard between my PC, laptop, and console easily, it is a shame that it had to come at the cost of three potentially programmable buttons. Especially when a button on the side next to the power switch would have been just as easy to use, and was good enough to use on the POP Mouse.
This is a keyboard and mouse combo that you buy for the looks, there is no question about it, but I found myself enjoying the use of it. Both the POP Keys and POP Mouse are comfortable to use, well designed, and fun to use. It can't help but look and feel a little gimmicky, but overall is both a nice looking keyboard that is just as functional as most other tenkeyless keyboards.
???