Samsung Odyssey Neo G9 Review
When it comes to tech you can fill any budget. By that I mean no matter how massive your budget is, you can use all of it should you so desire. The extraordinary Samsung Odyssey Neo G9 will definitely use all of it!
A massive curved screen
So why would you want to buy this screen? Well it is extraordinary.
Given most of us use dual screens for work and play these days, it doesn't feel excessive. The 49 inches wrapping around your vision actually feels a lot like having two screens. Well like that but without the awkward join and two flat surfaces meeting at an angle in the middle.
That continuous screen was one thing, but then there is the insane screen quality. The thing is made from Mini LEDs which allow the screen to not only get bright, but also allows the colours to shine in a way I haven't experienced. That and the insane refresh rates and response times made the thing run so damn smooth.
My gaming PC isn't that powerful so I couldn't put the monitor through the paces it deserves, but I was still surprised what it got out of my PC.
If your PC costs more than your house, then you will be able to take advantage of the G-Sync or AMD FreeSync compatibility. This is handy as it means whether you are rocking a high end AMD or NVIDIA graphics card, it will work beautifully with this monitor. I do not.
It still looked all kinds of awesome though.
If you are like me, then setting up back lighting seems like far too much work. Well you are in luck with the Odyssey Neo G9, it has back lighting built in. This means you won't want to line the monitor up to a window as late at night the street will know what you are up to.
A massive amount of desk space
The biggest challenge I had was my desk. Using the stand it took up three quarters of my desk. This is awesome sauce as it makes you get enveloped by the screen curving around your vision. However long term this would be a pain in the ass if you need things on your desk, like you know, books, paperwork, action figures, etc.
If I was going to permanently use this beautiful beast then I would likely have to mount it using monitor arms, or mount it to the wall. This would give you the best of both worlds, being able to move this beautiful machine around, but also giving you that sweet desk real estate.
A massive price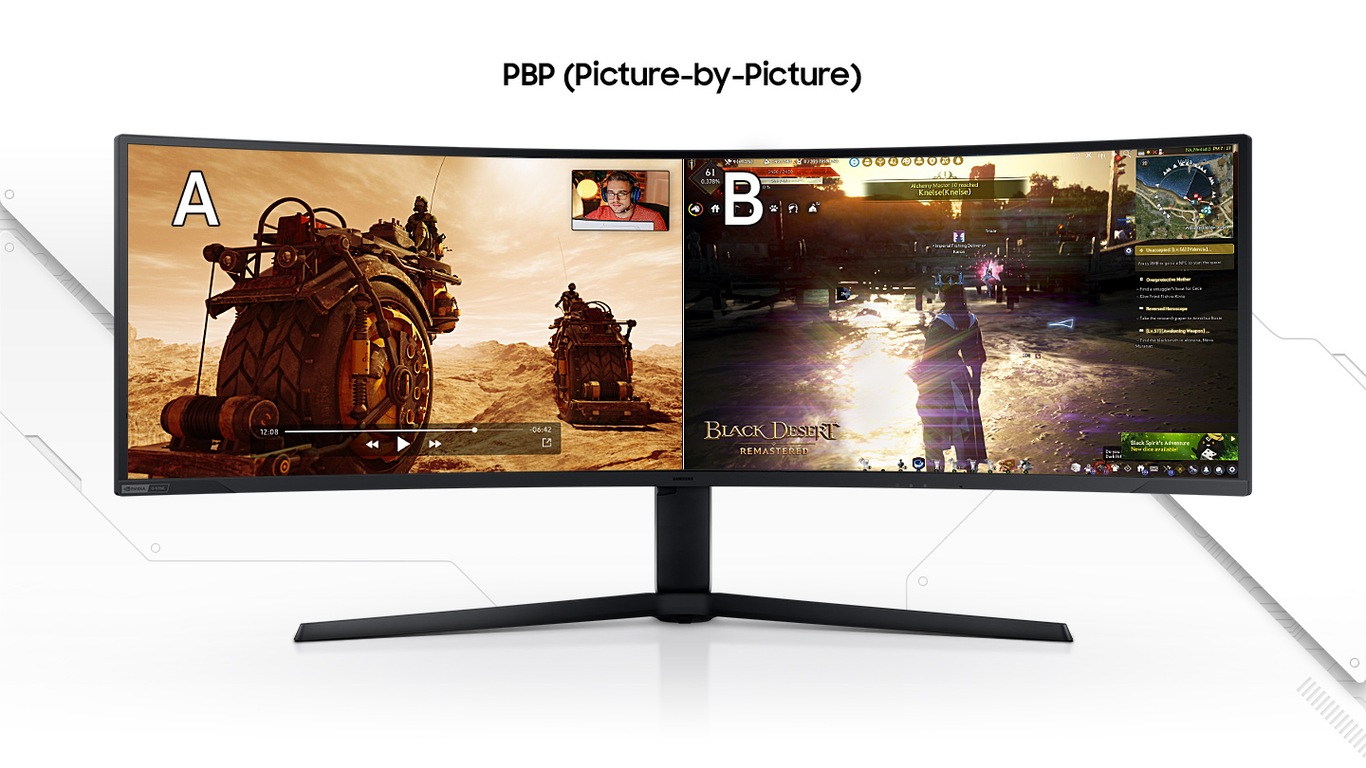 Unfortunately, it is incredibly unlikely I will have one of these for one major reason. It costs over 3K! Now don't get me wrong, I am not saying it is not worth it. This is the best damn monitor I have ever used, and the quality is better than my TV, and that quality comes with a price tag.
With that, you have to have either lots of disposable cash, or one beefy PC that takes advantage of its power. I have neither.
A massive amount of awesome
The Samsung Odyssey Neo G9 is one truly incredible monitor. Seriously I have used nothing like it. If I had that kind of disposable income then it would be a no brainer for me. Unfortunately for many, I suspect the price will be the barrier.