Quantum is a funny word, isn't it? The main meaning is to be the smallest amount of anything involved in a situation. You'd think that'd make it feel small, but it also conjures up dazzling vistas of nebulae and space, the future, hope, and technology.
Also it's the name of a headset series from JBL, but that's probably just because it sounds cool as hell.
The JBL Quantum 400 headset is at the lower end of medium in JBL's affordable headset offerings. What this means is that it doesn't have all the bells and whistles as some more pricey headsets, like the Quantum 600 or 800 with their wireless functionality or active noise cancelling, but you get more than on a basic 200 model.
Weight and comfort
The JBL Quantum 400 weighs in at a very specific 274g. No need to worry about being over-encumbered, but you definitely know it's there. 
The thick padded earcups not only provide a snug and comfortable fit, but also passively block some ambient noise. They're not gonna mask any fire alarms, but if you run a dehumidifier constantly (and let's be fair, us Wellingtonians do) it certainly doesn't hurt to have some cushion blocking out that drone while you game.
Gets a bit damp regardless, unfortunately, as they're not very breathable. Sweaty ear crew, beware.
Aesthetics and Sound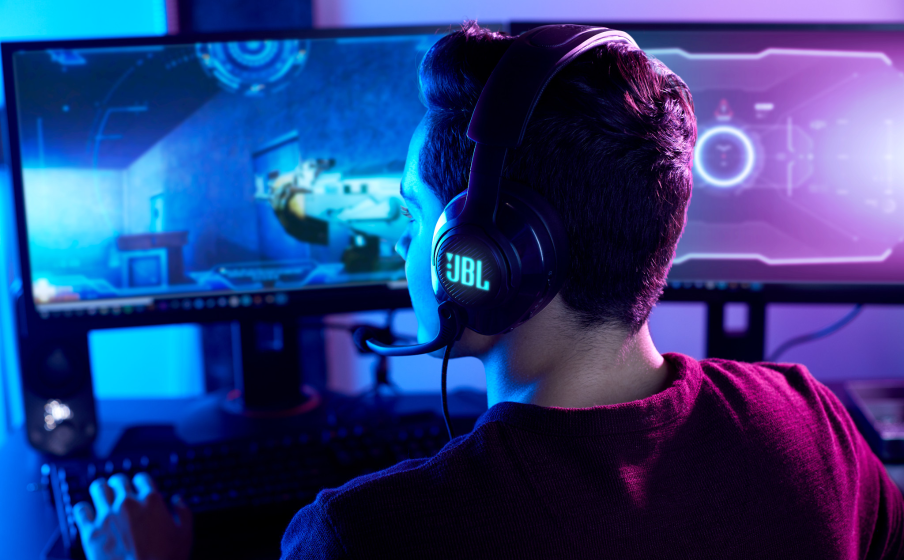 To quote the poets, the road to my heart is paved with woven cables. Regardless of whether or not that quote is real, I do love a good cotton-wrapped wire, and the JBL Quantum 400 doesn't disappoint. There's still that bizarre and disconcerting kink at the jack, where it veers into a 45 degree angle and gives you a little fright until you get used to it, but hey, that's nitpicking. The headphones themselves are pretty robust. While there's more plastic used in the construction than is my taste, they don't feel like they'll randomly disintegrate like a lot of purely plastic sets. That's always handy.
The sound quality is, for lack of a better word, alright. No dizzying highs or crippling lows, but you wouldn't expect the former and why would you even want the latter? This is not a set for the audiophile. However, unless you're dying to hear every individual raindrop separately (weirdo) you won't be disappointed. The surround works great, and I really can't complain.
The RGB effects, basically making the JBL logo all mystical, are a nice and wholly unnecessary addition. I long for the days when sleek black and graphite were the go to colours for tech, but if you want everything you own to gleam like a bunch of fireflies heading to Pride, these will fit right in.
Mic and connection
The Quantum 400 is a purely wired set of headphones, so bear in mind you won't be twirling in circles without some consequences. However, as stated, the included audio cable is pretty damn nice, and the relatively low price point is kept low by virtue of not shoving Bluetooth and a battery in there. These are the trade offs, friends, and there's no way around it short of a socialist revolution. Would you like a socialist revolution? Because that would be great!
Ok so my headphone review is probably unlikely to inspire a bloodless coup, but what about chatting to your friends about a coup in FarCry 6? Well that at least we have covered, with the Quantum 400 built in microphone providing solid connection and quality. Yes it looks like it's been stapled on as an afterthought, and it doesn't sit great when not in use, but it gets the job done.
A set for your head
Overall, the JBL Quantum 400 headset is a decent pair of headphones. It almost epitomizes the concept of decent; these are more than just a quantum of a headset, but they're not the full leap either.
If you're a hobbyist gamer looking for something a bit fancier without breaking the bank, these are for you. For even less you could go with the Quantum 200, and for more dollarydoos your options extend ad infinitum. But, after all, that's what they're for; a giddy little thrill at a reasonable price. I appreciate what JBL has done with this range; to each according to their needs and means. Get what feels right to you, friends