Iron Man VR – Developer interview
Unsurprisingly, the team at 8-Bit Island are massive nerds, and this definitely includes comics, superheroes, and all that good stuff. Iron Man VR promises to deliver not only to hardcore VR fans, but also to the Marvel fanpeople in us all.
I chatted with Ryan Payton, founder of the Seattle-based Camouflaj studio bringing us this particular brand of armoured awesomeness. Read on, and find out why we're even more excited than before to get our hands on the full Iron Man experience
Iron Man VR is a pretty long demo, about an hour, which seems to be a pretty good amount of time to spend in VR. This was intentional, as Ryan and the team wanted to give players a taste of the real game.
The length and robustness The Iron Man VR demo was definitely intentional. The team and I felt it was very important to have a demo ahead of release and include a variety of content.
One reason is that we're so confident in the game's flight and combat mechanics, and we wanted to put it in front of players. We've talked a lot about it, but we want people to experience for themselves that you can feel like Iron Man, and we're just really proud of that.
The second reason is that I'm a big fan of an old school PS1 demo disc, that featured Tony Hawk Pro Skater. What that team did was introduce these new and fresh mechanics that took some time to get used to and master. We want to make sure that the players have time to get used to these mechanics, and get that level of mastery before release, because that's where the game really clicks for a lot of people.
The demo has a lot more content than most of the demos from trade shows last year. We've purposely included some difficult challenges to encourage people to go back and try more, and get that level of mastery so that they can really dive in when the game comes out.
The beginning of the demo is very similar to the beginning of the full release, so you get to see what the game is like with the big setpieces and story driven cinematics while you play as Tony Stark. As you get deeper into the campaign we introduce an additional element, which is Tony Stark's mansion, and specifically his garage. We felt it was really important to have the full Iron Man experience, which includes allowing players to be Tony Stark as the tinkerer and inventor as well as the superhero.
In the garage we have the unique suit that we built along with Marvel, the Impulse Armor, which is front and centre and players can modify and customise it with additional weapons and upgrades that they earn over the course of the campaign. So we've got a balance of this big hi-octane Iron Man campaign missions with these more intimate and story-driven Tony Stark moments, and I think it adds a really nice balance to the overall game
Immersion is often an issue in VR, as is in helping the player orient themselves; I once punched myself during a particularly stressful segment of Blood and Truth. I asked Ryan how Camouflaj overcame these limitations.
One of the great things about this game development was that once we established this partnership with Marvel and began creating the game, we also formed this amazing partnership with PlayStation. Being able to work exclusively with them and release this game on the PlayStation VR hardware was something we really wanted, because they have great VR hardware, and motion controls that pair really nicely with what you want to do as Iron Man. 
You've got your VR headset that acts as a great analog to Iron Man's helmet, you've got the Move controllers that pair really nicely with the repulsers and thrusters, and the gyroscopes that let you track melee like Rocket Punch and Ground Pound.
That being said, there are limitations with technology, and so we do some interesting things to make it as seamless an experience as possible. Most of this is under the hood though; the last thing we want players to do is to think about the hardware, we want them to think about being Iron Man. That's been one of her main development goals from the very beginning.
I don't think there's a better pairing with the a Marvel superhero of the great aspects of VR than with Iron Man.
Ryan's past with the Metal Gear franchise clearly instilled a love of mech suits, and it's clear that the game is a labour of love. While Metal Gear and Iron Man are well established universes, Camouflaj's last game 'Republique' was a unique IP. We asked about how it felt developing for such a massive world, and how much this world is unique from the rest of the Marvel universes.
The freedom and creativity to create a new IP is really fun, but it's also extremely difficult because you have nothing as your foundation. One of the things I loved about working with Marvel is that we had this incredible foundation of one of the most popular superheroes in the world, and they supported us the whole way through.
In a lot of ways the game kind of designed itself. We asked ourselves what would be the ultimate Iron Man VR game, and and we think that obviously we have the repulsers and thrusters, and the HUD and Friday, and the ability to tinker with the armour in the garage, and all of this was afforded to us by the existing world.
Some of the difficulty that comes along with that is that we're not interested in just telling the same story over again; we wanted to challenge ourselves to make an original Iron Man story, that wasn't an origin story, and addressed areas that this character has not gone up to up to this point, while also balancing it out with things that players would want and expect and love from the franchise.
Our main antagonist in Iron Man VR is Ghost, who was recently introduced to many in 'Ant-Man and The Wasp'. We asked, first of all, why Ghost, and what relationship this incarnation had with MCU and comic iterations of the character.
We wanted to make a villain worthy of facing Tony Stark, and Ghost was a natural fit. It's a funny story; early on in the development of game were asking ourselves what makes a great Iron Man game, and the classic Iron Man stories are the ones that feature Tony Stark as his own worst enemy, so we started from there.
I was asking myself who was Iron Man go to be fighting throughout this campaign, and we had this idea of showing that Tony Stark used to be an arms dealer, and having those deadly weapons he created come back to haunt him. Then we asked ourselves who would want to haunt Tony Stark, and who could resurrect these machines to Tony now that he's a superhero, and would hold a deep grudge against him. When we presented that challenge in a meeting with Marvel, everyone looked at each other and just said "Ghost".
That's where we got a villain
This game isn't based in any of the bespoke universes from the films or other games; it's a unique Universe that Marvel games have helped create for us, which is why we have the freedom to bring in elements like Ghost as a woman along with everything else; we wanted to have a strong female case. Marvel were completely OK with it, but we should ask what the number is if it has one.
It definitely has one.
On a more serious note, getting ready to go Gold is stressful enough without a global pandemic; I asked, ya know, how's everyone doing?
As we get closer to the release of the game on July 3rd, we're experiencing a cocktail of emotions. I'm excited, I'm happy, I'm anxious, I'm proud of what we created. Mostly, I'm incredibly encouraged by what we've seen in the public response to the demo last week was an incredible injection of excitement into the team, and really what we needed to get the game to the finish line.
All that excitement is of course juxtaposed with the current reality that we're living in. The city that we're living in was the first hit in North America by this current pandemic, so we had a pretty tough time back in March. The good news is that the team is healthy and safe; we put the teams safety ahead of the game's schedule. Marvel and Sony fully supported that, and we know there's a lot of passionate Marvel and PlayStation VR fans out there; we're doing everything we can to deliver on the promise we made for the game last year.
In an alternate (possibly numbered) universe this pandemic, didn't occur, and the game shipped on schedule, and was more or less the same game. One thing I found interesting was that working remotely on this game is strangely compatible with closing out a game. We're not not experimenting with new features or ideas at this stage. It's a lot of time spent with headphones on, a bug tracker on the monitor, and just fixing things and making things better. In a way, being in isolation has been something of a positive
Closing the game has also been a really good distraction for all of us from the anxiety outside. Knowing how anticipated and important Iron Man VR is has been a good thing for everyone at Camouflaj.
Finally, at the insistence of the 8-Bit Island crew, I had to ask; can you fly directly into the sun as Iron Man, as some kind of technologically advanced Icarus?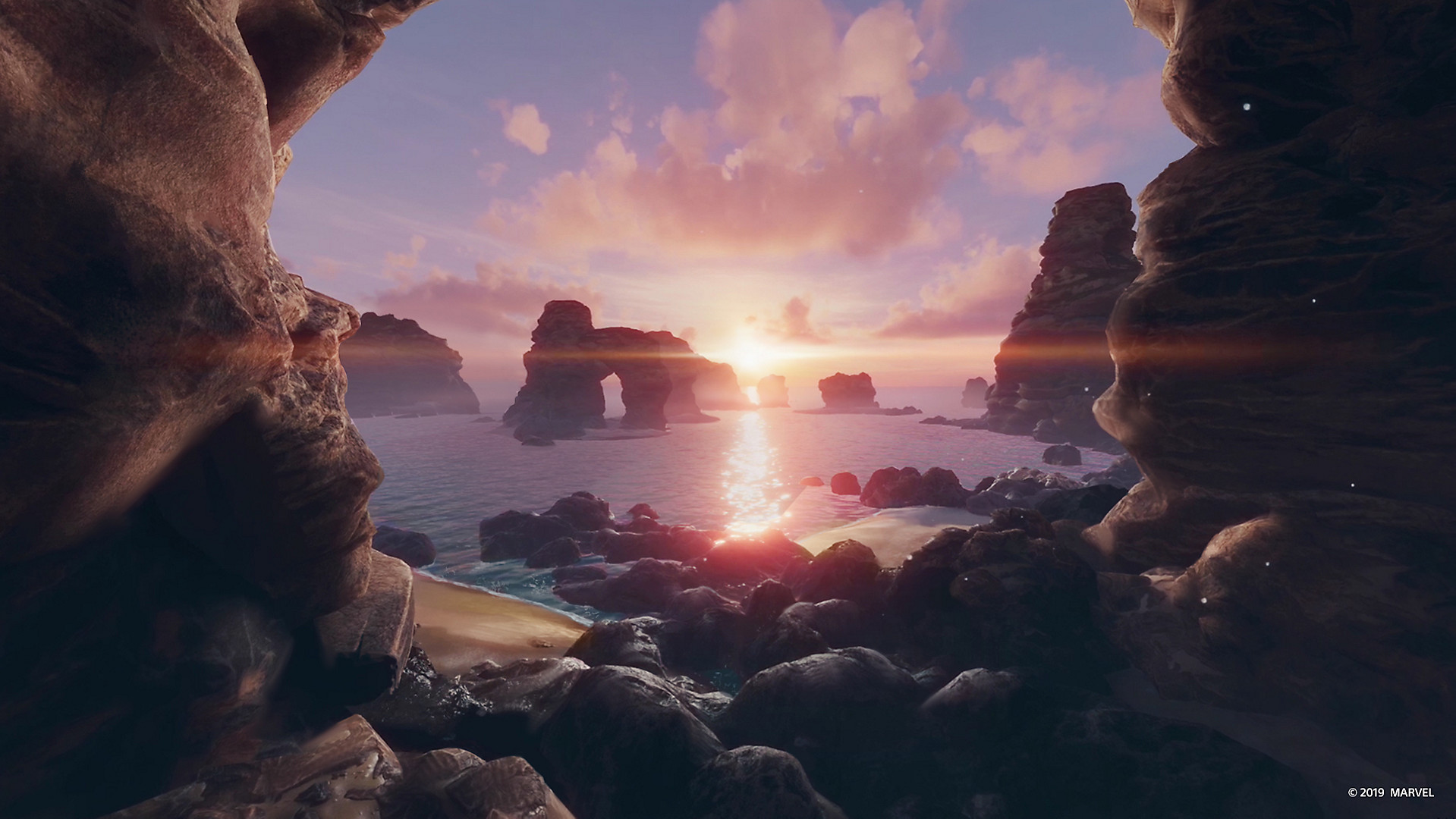 Sadly you can not fly directly into the sun. The good news is that you can fly around really big environments, that are much bigger than the environment you experience in the demo. We've got places like Shanghai and a S.H.I.E.L.D. helicarrier; it may not be the sun, but you can go to areas that you always wanted to as Iron Man.
We also allow players to go back to previous environments and free fly to take on optional missions in that environment. Not only because it's fun, but because we want to celebrate the art the team has created; once isn't enough to see it all.

Iron Man VR launches exclusively on PlayStation VR on July 3rd. We also took some time with the demo last week, which you can read Blair rave about here.