Xbox Series X Review – An Xquisite next gen console
I can't believe it's been seven years since we saw the Xbox One, but the time has finally come for next gen. The Xbox Series X is here, and ready to show you why you need this refrigerator-esque console.
I've been playing with it for a week, and: wow. Wow in some expected ways, and wow in some unexpected and frankly crazy ways.  
Next gen and it's an obelisk
There have been a lot of jokes about how the Xbox Series X looks like a fridge, or monolith, but I love the unassuming shape. If you have it standing upright, the simple and tall rectangle with the glow on top looks pretty damn cool. The design means it fits the aesthetic of any entertainment suite, and it towers above all the other things on your cabinet.
Because I like slotting consoles into shelves, I stuck my Xbox Series X sideways and pushed to the back so the fan could move air around it. Because of the square shape it gets fairly close to touching the top of the shelf, but shoving it to the back means you have a nice bit of space for the controllers and extras to fit in front, as you can see below.
In this way I was surprised at how much I liked the new console. With my controller sitting in the space in front, the Xbox Series X is subtle and unimposing, with a nice dim glow from the all seeing eye … I mean the touch button / Xbox logo light.
The smooth next gen upgrade
Usually with next gen upgrades, there's a cutoff where you basically play as many older games as you can before you trade in the console and games and tackle what is new on the next machine. The Xbox Series X feels less like the next gen change of times past, and more like you upgraded your old dated gaming PC for a nice shiny new one.
Of course, modern consoles are basically just PCs running proprietary software, but that's a story for another day.
Starting up and logging in was as smooth as Microsoft-branded butter. You can sign into your account using your cell phone, so things like typing in your password is easier than ever. Then straight away you can start downloading your back catalogue, or some nice shiny new games, and Bill's your uncle; we're in.
The OS is effectively a tweaked version of the Xbox One's, which means it's comfortably familiar out of the gate, and immediately I got to downloading. Any games I had half finished with usable saves on my Xbox One I jumped into. It's the same thing, yeah, but faster. The boost in processing power makes a massive difference, but still leaves you feeling comfortable navigating around pages you have seen before.
Quick Resume your way to the future
The biggest feature that the Xbox Series X offers, and a life changing one for me personally, is Quick Resume. The last gen introduced suspended games, letting us put our consoles to sleep, then turn on the next day and carry on without worrying about checkpoints and all that jazz. This became an everyday quality of life improvement that many found indispensable. Quick Resume is already that for me, this time tracking across multiple games.
I can play Ori and the Will of the Wisps until some ungodly hour of the night, put my console to sleep, and know that if my son comes home from school and plays Mineecraft, I haven't lost any progress. I cannot understate how amazing this is. Last gen I would only use that feature on my PS4, because the youngling would play Minecraft on the Xbox before I got home, potentially wiping all my precious progress. Now? I'm free.
Quick Resume has already become a staple in my household, and new features are what new gens are for, right?
The power of next gen is here
The supercharged processing power was intensely apparent thanks to backwards compatibility. I jumped straight into games that my Xbox One had struggled with and it. Was. Heaven. Load times reduced, graphics and frame rates increased. Most of us, including myself, don't have the labs or money to do some full on testing, so for this I recommend you check out Ars Technicas comparison work. In the raw numbers the difference is clear, but even a laygamer like me can immediately tell there's some cool stuff going on under that boxy exterior.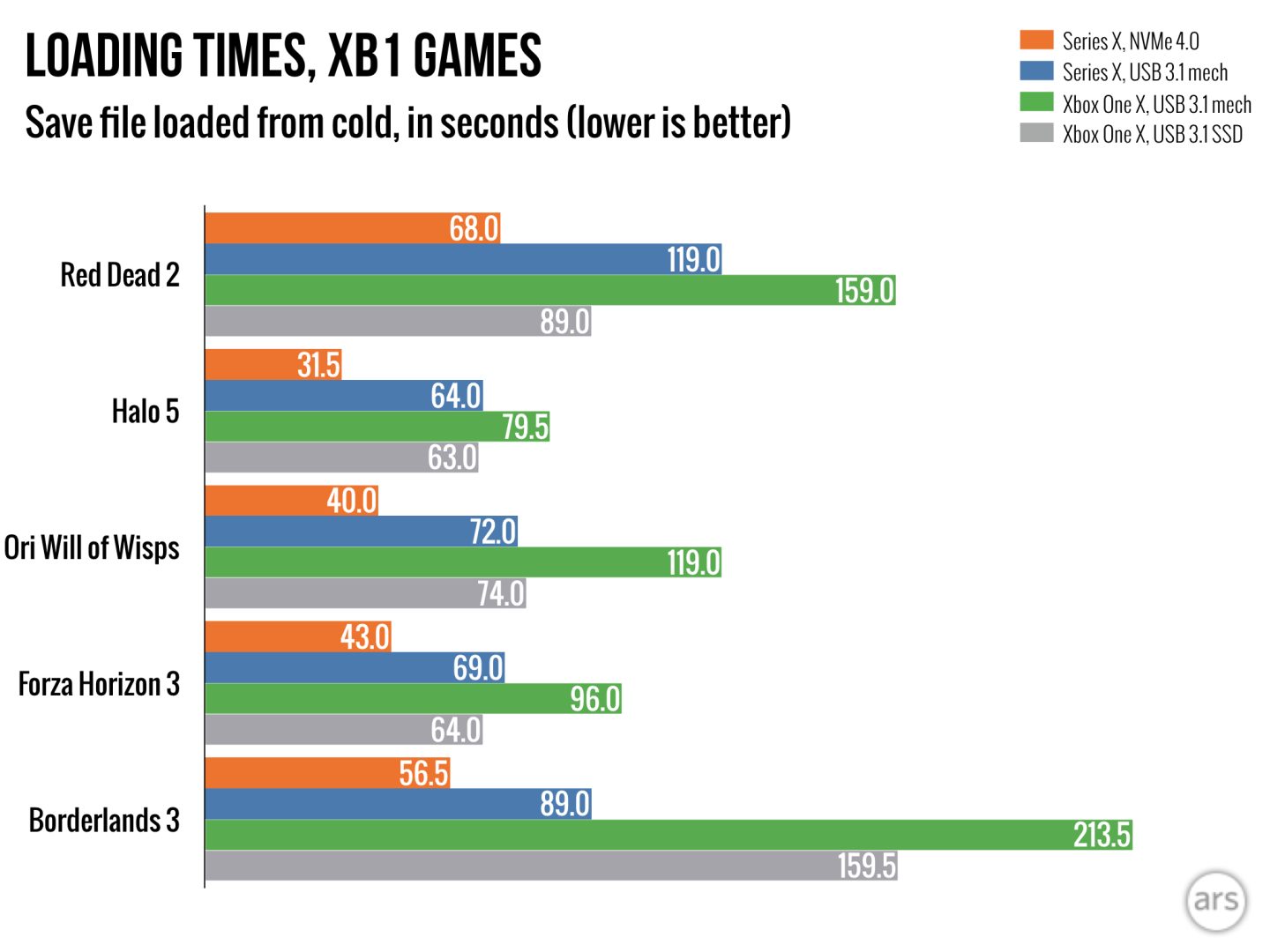 How this works with more powerful games down the line, we'll have to wait and see. But I'm excited.
The value of next gen is here
I have ranted about how great Xbox Game Pass is before, and it keeps holding up. I could easily play Game Pass games for the next six months without buying anything new, at which point the Xbox Series X has basically paid for itself.
A quick look at the current library shows the expected Xbox exclusives like Halo, Fable, Gears of War, and Forza Horizons. If you are new to the Xbox ecosystem, that's a few months right there. Add to this the newer Yakuza games, Kingdom Hearts, Doom Eternal, The Outer Worlds, Darksiders, Batman Arkham Knight, FF VII, FFIX, FXV, the Outer Wilds, Dead Cells, Carrion, Cross Code, Indivisible, Hollow Knight, and so many more you'll think you've accidentally wandered into the main storefront. This right here? Value.
Seriously, I am looking at the list and seeing a ton of games I want but won't have time for, as well as the EA Play games that are being thrown in for the subscription price. How do they make money on this? I don't know or care; I just know this is awesome.
Xbox Series X – Hard to not see the value
The Xbox Series X has been an awesome experience so far. The console looks nice and tidy, packs a lot of power in, and easily justifies its price. I would have liked a bigger change in the UI so it was more streamlined like the PS4's was, but it is a seriously awesome next gen console that brings quality of life improvement and pays for itself with Game Pass.
Best of all, this time Xbox is leaning into the jokes.
And hey, if for some reason you need even better value for money or don't know when to upgrade, it's always a great idea to keep your eyes on Price Spy. This isn't sponsored, we just think it's neat.